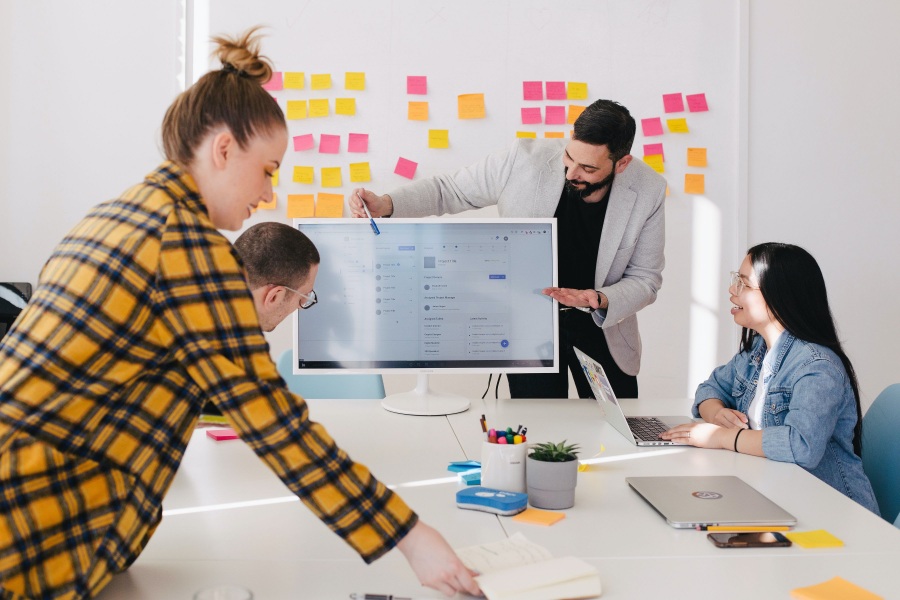 Start an Online Business in Abu Dhabi – 2022 Guide
The UAE has made a name for itself as one of the most extraordinary places in the Middle East. In recent years, its capital, Abu Dhabi, has evolved into a dynamic centre to compete in the world arena. It has become a prominent player in several sectors, including commerce, information technology, and tourism. Due to these developments, there are several advantages to launching a company in this vibrant emirate.
This post will examine the essential aspects and benefits of starting an online company in Abu Dhabi. We will cover the following topics:
Benefits of starting an online business in Abu Dhabi
• Steps to start an online business in Abu Dhabi
• Cost of starting an online business in Abu Dhabi
• Working with Setup in Abu Dhabi
Benefits of starting an online business in Abu Dhabi
When you consider the many advantages it offers, you will wonder why you didn't start your business in Abu Dhabi sooner.
1.Location: Abu Dhabi serves as a crossroads for business and trade globally, interacting with markets in the Middle East, Africa, Asia, Europe, and the Americas. With its modern infrastructure and facilities for international commerce, the emirate is an ideal place to conduct business.
2.Tax benefits: A company will pay very little in terms of taxes. Abu Dhabi's business free zones provide various tax benefits, such as no personal or corporation tax and import or export duty.
3.Infrastructure: Abu Dhabi offers a comprehensive range of technology solutions. The emirate has established itself as a centre of excellence in telecommunications and information technology in the last decade. It is a great place to grow your business because it has the most up-to-date technology and infrastructure.
4.Growth potential: Abu Dhabi's growth is accelerating at a rapid rate. Many significant corporations and holding companies have their presence in the region. As a result, they are eager to invest in companies that have the potential to grow exponentially with the right direction and investment.
5.Affordable costs: The expense of renewing a business's trade licence can be prohibitive. However, starting a company in Abu Dhabi is more cost-effective than its more famous emirate neighbour. This helps businesses to concentrate on achieving company objectives instead of renewal costs.
Steps to start an online business in Abu Dhabi
To help you get your online business up and running as quickly and efficiently as possible, here are a few essential steps to follow:
Step 1: Select a business activity
To start a business in Abu Dhabi, you must first choose an activity. Online companies may be found in just about any sector and can specialise in almost anything. Among the most prevalent types of online businesses are ecommerce, digital products, affiliate marketing and freelance consulting.
Ecommerce is selling physical products online and can include anything from tables and chairs to clothes to toys to fresh fruits and vegetables. Digital products, on the other hand, are primarily ebooks, design templates, or virtual items and services.
In affiliate marketing, you sell other people's items online for a commission. Generally, commission-based businesses compensate their marketers for each sale they make.
If you have a talent in high demand across a wide range of industries, such as writing, design, or photography, you may want to explore working for yourself as a freelancer and offering your services online.
Step 2: Identify any gaps in the market
Many online businesses currently operate in the UAE. So you need to make sure yours stands out and provides something unique to succeed here. To do this, you need to identify a gap in the market and provide a solution to it. You can identify gaps by thoroughly researching your competitors, the market and customer feedback.
Competitor research:You need to figure out who your competitors are, what they do, and how it relates to your company concept. You do not want to duplicate them, but you can understand what they are doing poorly and what their consumers want and need.
• Market research:Once you decide which industry you want to enter, you should analyse recent developments in that sector and determine what aspects may need improvement or modification.
• Customer feedback: Consult your target market directly rather than assuming you know what they want. Surveys through email, newsletters, or social media are excellent ways to obtain vital information and feedback. Keep in mind that you do not want them to be too lengthy.
Step 3: Select the jurisdiction.
Abu Dhabi has two economic jurisdictions: mainland and free zone, each with its own commercial laws and regulations. When choosing your jurisdiction, you should think about how well it fits the nature of your business, how easy it is to reach your target market, and your physical office's location.
Step 4: Register your business
Abu Dhabi has some simple rules for starting an online business. These must be adhered to in order to ensure the validity and documentation of the company. To start your online business, you register the business and apply for the licence relevant to your activity with the Department of Economic Development (DED).
Step 5: Build your brand and website
Websites are a must-have for people who want to run their businesses online. Ensure your website is user-friendly, completely on-brand, and can be accessed on any device, from a phone to a tablet to a laptop or desktop, to avoid losing customers. Additionally, you must set up a payment gateway for your online business as it allows your customers to make payments for their purchases.
Step 6: Develop your marketing strategy
Once you are open, let your consumers know you are ready to serve them. You will need to market your business. Some effective marketing methods include advertising, email marketing, and partnerships.
Cost of starting an online business in Abu Dhabi
How much an online licence costs depends on several things, including licencing fees and administrative expenses, registering a trademark, agent fees, and cultural fees from the government. Where you establish your company – mainland or free zone – also affects the pricing. Both free zones and the mainland have their pros and cons, and you can choose where to open your business depending on what you do.
If you want to get an exact price, you can speak to one of our business setup managers at Setup in Abu Dhabi. They will be able to give you an up-to-date price tailored to your unique requirements.
Our team of company formation experts will take care of everything, including selecting the most appropriate jurisdiction for your business, banking solutions, assistance in finding suitable business premises, legal support, funding options, and much more. We help you complete all the necessary documentation and meet Government requirements. Please contact us at info@setupinabudhabi.ae to speak to one of our company formation advisors today.

Prices offered by free zones are subject to change without notice. Please get in touch with Setup in Abu Dhabi for an updated price based on the current promotions and availability.
Fill in your details to get started